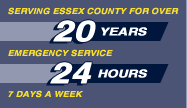 "I found myself compelled to write this letter of gratitude regarding the work you had Jim Parker orchestrate. Within only twelve days after our fire, Jim had the upstairs of our business cleaned and painted and ready for customers. Within twenty days he had our total premises (with the exception of the kitchen) ready to receive customers..."
...Read More.
Robert Katzman
Katzman Enterprises

Disaster Restoration -- Wind, Fire, Water, Vandalism, Burglary Damage
When disaster strikes you need a company that understands. Our disaster restoration experts are on-call 24 hours a day, ready to respond immediately to clean up and secure your property. You shouldn't have to worry about experience, knowledge or qualifications. Our team knows what to do, who to call and how to minimize your damage and expenses.

We are Restoration & Repair Specialists, for damage from fire, smoke, flood, sewer backup, storm, wind, water, moisture, mould, odour, ice damming, frozen or broken pipes, vandalism, vehicle impact, vandalism or other catastrophic damage. Our 24/7 Reliable Emergency Services provide peace of mind in times of painful uncertainty.

We provide Emergency Board up, Tarp-overs, temporary property protection, clean-up and immediately available temporary and secure climate-controlled storage to secure and protect your possessions as well.

We'll work closely with you and your insurance company to ensure the entire project is completed quickly, respectfully, thoroughly and professionally. We service Windsor and Essex County from our Windsor and Leamington Offices.